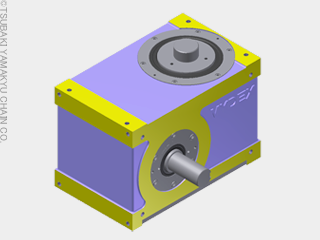 MYDEX RI (Roller Gear Indexer) Series are an intermittent indexing system (Indexer) with a roller gear cam mechanism orthogonally combined with a turret, which is radially-arranged roller gear cams and cam followers. It is the most orthodox indexer and we provide a wide range of indexers so that it can be used for all of the automated machines. They have excelent performance records of sefety, durability and reliability.
Features

Center Distance

: 32 - 254mm

Number of Stops

: 2 - 24

Cam Index Angle

: 90°- 330°

Zero-backlash

Available to all the direction of gravitational force, re
gardless of mounting positions
Possible to combine with all the option parts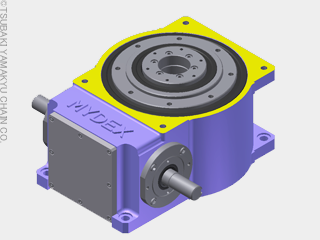 Multi-index Type Roller Gear Indexer TLX Series MYDEX TLX (Thin & Large through Bore Indexer) series are the same roller gear cam mechanism as RI series. The main feature is that a large-diameter turret suitable for multi-index (multi-process) and a hollow shaft which has an industry leading diameter. an ultraslim and does not occupy too much mounting space and electric wirering and plumbing, etc. can be conducted easily in a large hollow shaft that is ideal for a rotally table type of machinery.
Features

Center Distance

: 75 - 450mm

Number of Stops

: 4 - 40

Cam Index Angle

: 90°- 330°

Compact types have a standard large hollow shaft; Inside diameter 40 - 80mm

Available to all the direction of gravitational force, regardless of mounting positions

Possible to combine with all the option parts