●New Design:
Please fill in and send us the Selection Sheet on the page of "Model Selection".
●MYDEX which has already been using:
Please let me know the product code, the serial number, the date of manufacture and its drawing (No.), etc. marked on the nameplate attached to the product.
Regarding the nameplate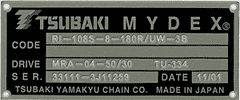 CODE: Product Code
Drive: Option Parts Product Code
SER.: Serial Number
DATE: Date of Manufacture (Old nameplate is shown next to serial number on the right)
Although the nameplate of old product has some types depending on the date of manufacture, the information is in common.